"…wars and rumours of wars… for all these things must come to pass. Nation against nation, kingdom against kingdom… famines and pestilences and earthquakes in unusual places…" Matt. 24:6-7
I

NSIDE THIS WEEK'S EDITION

: 
Ebola spreads to Uganda; Newborn health on the brink of collapse in Yemen; South Sudan faces famine; Is Jesus the only way to salvation?  When we think it is peace; Fight to end hunger faces challenges;   Nothing can stop the return of Jesus Christ; What is the Lord's Day?
WITH

JUST ONE CLICK

ON THE ADS TO YOUR RIGHT AND YOU SUPPORT THE WORK OF THE CHRISTIAN WATCHMAN
Week of June 16 – June 23,  2019
Second Ebola death confirmed in Uganda as UN health agency mulls global emergency call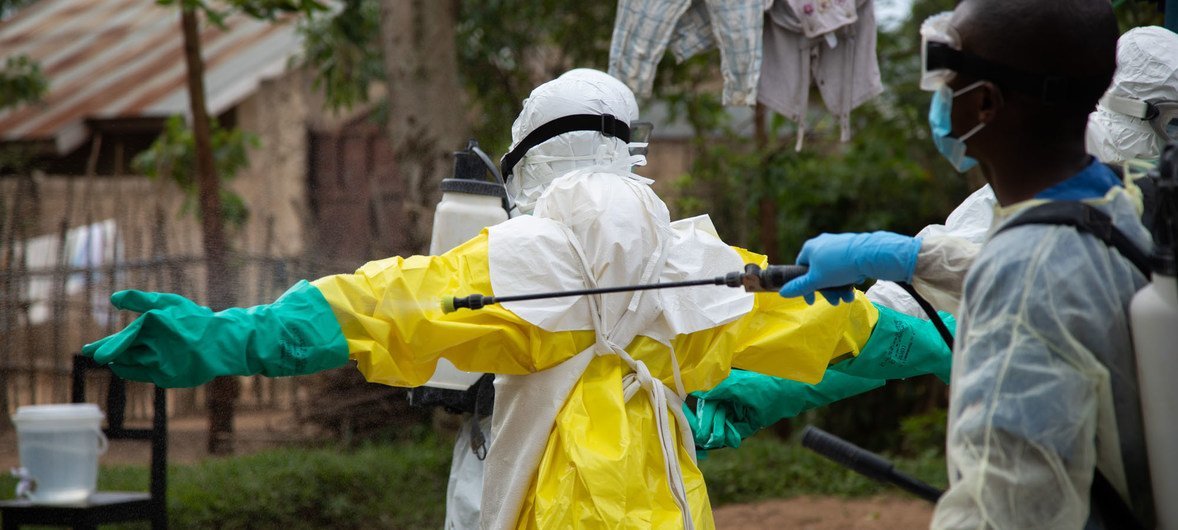 Together with Uganda, UN humanitarian agencies are racing to contain deadly Ebola virus disease (EVD) there, after the announcement that it has claimed a second victim.
The development, which is likely linked to the ongoing outbreak in neighbouring Democratic Republic of the Congo (DRC), comes ahead of a key meeting on Friday at the World Health Organization (WHO), to decide whether to announce an international public health emergency.
"The second of three persons who were confirmed Ebola positive has passed away," said WHO spokesperson Tarik Jasarevic in Geneva. "Obviously, it is very important that the Ministry of Health together with the WHO go quickly to this area where the cases have been identified to make sure that all those who may have been in contact with these people have been monitored."
According to the Ugandan authorities, which confirmed the outbreak on Tuesday, the victims are a five-year-old boy from Uganda and his 50-year-old grandmother.
The youngster fell ill  after  visiting DRC's Mabalako  Health  Zone  to  attend  the burial of his grandfather, a confirmed Ebola-sufferer, who died in the community on 1 June.
The boy and his family then returned to Uganda through the Bwera border on Monday, where relatives sought help at Kagando hospital for symptoms including vomiting and bloody diarrhoea.
Health workers identified Ebola as a possible cause of illness and he was transferred to an Ebola treatment centre (ETC) at Bwera, Kasese.
He died on Tuesday evening before being given a dignified burial, according to the Ugandan authorities, which noted that in addition to the boy's grandmother who succumbed to Ebola virus, his three-year-brother has also tested positive for the disease.
A fourth suspect case – a 23-year-old man from Mukungu village in Katwe – is also awaiting lab confirmation and some 27 contacts of the victims have been identified so far, the health ministry statement added.
Response plan measures include ban on public gatherings
The Ugandan authorities also said that the Minister of Health, WHO's Country Representative and other partners had met at Bwera Hospital on Wednesday to discuss an action plan.
Initial measures to prevent the transmission of Ebola include a ban on mass gatherings such as markets, the vaccination of contacts and health workers, and a public information radio campaign to allay concerns and rumours about the outbreak.
Alongside WHO, UN Children's Fund UNICEF announced that it had launched an emergency Ebola response plan in Uganda, in response to the latest developments.
The move follows months of preparedness and prevention efforts as Ebola cases have continued increase in DRC, where there have been more than 2,000 infections and nearly 1,400 deaths in the country's worst recorded outbreak after it began last August.
"As our thoughts are with this young boy's family, this is a tragic reminder that even one case of Ebola is one too many," said UNICEF Representative in Uganda, Dr. Doreen Mulenga. "We must do everything possible to stop this outbreak in its tracks and prevent other needless deaths."
In recent months, UNICEF has supported the Government of Uganda implement extensive programmes to make sure communities in numerous districts in western Uganda bordering the DRC are prepared for a potential outbreak.
Seeking professional medical help quickly 'a priority', says UNICEF
With the aim of empowering communities in numerous districts in western Uganda bordering the DRC against a potential Ebola outbreak, UNICEF has already made nearly 350,000 household visits to share information about the disease and the importance of seeking help quickly.
More than 14,000 public meetings have also been held at schools, churches, mosques, markets, bus stops and funeral gatherings to discuss Ebola prevention, reaching around 2.4 million people.
Other measures include building capacity for infection prevention and control in health facilities through water, sanitation and hygiene interventions, and training nearly 1,500 Uganda Red Cross volunteers and para-social workers to support communities dealing with Ebola-related stress.
"Awareness is the best way to prevent the spread of this virus," said Dr. Mulenga. "Strategically communicating the correct knowledge and best practices to affected communities is critical to doing so."
 

Yemen: maternal and newborn health 'on the brink of total collapse' 
After more than four years of grinding conflict in Yemen, healthcare for mothers and their babies is "on the brink of collapse", the UN Children's Fund (UNICEF) warned on Friday, in a report that highlights the difficulties of childbirth and parenting in a war zone.
According to UNICEF, one woman and six newborns die every two hours from complications during pregnancy or childbirth. The years of intense fighting in the country have contributed to limited access to crucial healthcare, with only three out of 10 births taking place in regular health facilities.
The results are part of a series compiled by the agency, Childbirth and parenting in a war zone, released this week.
Addressing the grim statistics, UNICEF Executive Director Henrietta Fore said that "bringing life into the world in Yemen, can all too often turn into a tragedy for entire families".
Yemen was already the poorest country in the Middle East and one of the world's most impoverished even before the war between the Saudi-led Government coalition and Houthi rebels, escalated early in 2015. The maternal mortality rate has risen sharply since then, from five maternal deaths a day in 2013, to 12 a day last year.
"Decades of underdevelopment and years of intense fighting have left essential public services, including crucial healthcare for mothers and babies, on the brink of total collapse", Ms. Fore added.
With mothers and babies amongst the most highly vulnerable in Yemen, one in 37 new-born babies die in the first month of life and one out of every 260 women dies in pregnancy or childbirth, according to a UNICEF press release issued on Friday.
Recalling that access to quality ante- and post-natal health services is key to newborn and maternal survival, the agency warned that only 51 per cent of all health facilities are fully functional, and even these face severe shortages in medicines, equipment, and staff, putting lives at risk.
Home births on the rise as services collapse
According to accounts by women interviewed in an ongoing qualitative study on health services in Sana'a, Taiz and Aden, home births are also on the rise. Women reported that because families are getting poorer by the day, an increasing number of women are opting to have their babies at home, and only seek medical care if they experience complications.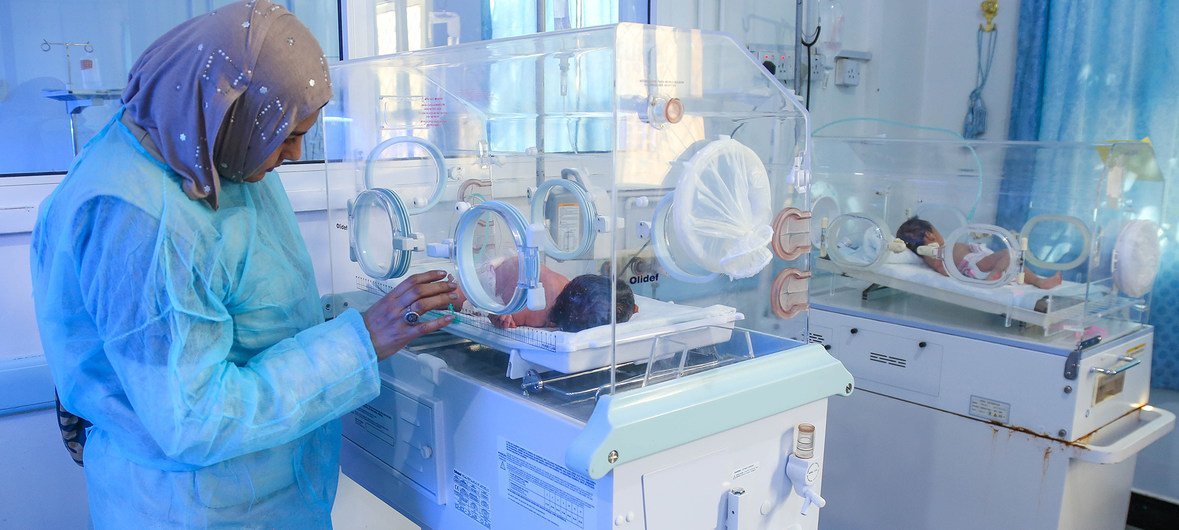 In a country profoundly affected by humanitarian crisis, delivery of routine primary healthcare services has also been overshadowed by the urgency of responding to the cholera epidemic and the chronic starvation threat, leaving pregnant women and newborns with limited access to a broader range of maternal and child health services.
"Antenatal care and skilled health attendance at delivery are essential to the survival of both mothers and babies," Ms. Fore added. "As the world marks the 30th anniversary of the Convention on the Rights of the Child, we renew our call for all children – in Yemen and elsewhere – to enjoy their full rights to health, education, protection and peace."
The agency is calling on all parties to the conflict and the international community to focus resources on the poor, marginalized and internally displaced communities and to protect the health care system in the country, with specific attention to primary healthcare.
South Sudanese facing famine in all but name
Record numbers in South Sudan – some seven million people – face acute food shortages, while more than 20,000 are close to famine, the World Food Programme (WFP) warned on Friday.
The warning, which follows years of violent unrest and vicious rights abuses linked to mass displacement, food shortages and disease outbreaks, coincides with the release of updated data on hunger levels in the country.
"It is famine-like, but you cannot call it famine, because you can only call (it) famine if you have a certain number of criteria," including the number of people affected, said WFPspokesperson Hervé Verhoosel. "We are not at that number, that level, to use the word famine. We cannot use the word famine, but they live in conditions that are equivalent to a famine, if there was many more"
According to Friday's food insecurity report, an estimated 21,000 South Sudanese will likely face a "catastrophic lack of food access" by the end of July, in the middle of the rainy season.
More than 1.8 million are set to endure "emergency" food shortages, while five million are expected to be in "crisis".
Compared to forecasts made in January, the updated hunger estimates reckon on another 81,000 people facing "a highly stressed and critical lack of food", particularly in Jonglei, Lakes and Unity states, WFP said in a statement.
Already in South Sudan, the UN agency noted that food and fuel prices have spiked, while trade and local markets have been disrupted, depleting the country's food stocks.
Today, WFP assists more than 2.7 million people in South Sudan, but it plans to scale up aid to 5.1 million by December, to meet seasonal needs, using a combination of food and cash distributions.
For the first time in many years, WFP has also prepositioned 173,000 tonnes of food in some 60 areas ahead of the rainy season; some 66,000 tonnes more than at the same point in 2018.
This helps to "save lives" while also reducing delivery costs as the food can be transported by road – and not air – before the rains render them impassable.
Mr. Verhoosel stressed that the success of the operation depends upon the "effective implementation of the peace agreement in South Sudan and political stability", to allow urgent and scaled-up humanitarian assistance to protect livelihoods and boost agricultural production across the country and save lives."