"…wars and rumours of wars… for all these things must come to pass. Nation against nation, kingdom against kingdom… famines and pestilences and earthquakes in unusual places…" Matt. 24:6-7
I

NSIDE THIS WEEK'S EDITION

: Conditions deteriorating in Yemen;  Protection for those fleeing Central America; More developments on the Temple Mount;  Was Christ truly born in the dead of winter? Jesus the only way to salvation?  When we think it is peace; Fight to end hunger faces challenges;   Nothing can stop the return of Jesus Christ; What is the Lord's Day?
WITH

JUST ONE CLICK

ON THE ADS TO YOUR RIGHT AND YOU SUPPORT THE WORK OF THE CHRISTIAN WATCHMAN
Week of December 9-December 16,  2018
Conditions deteriorating alarmingly in Yemen, warns senior UN official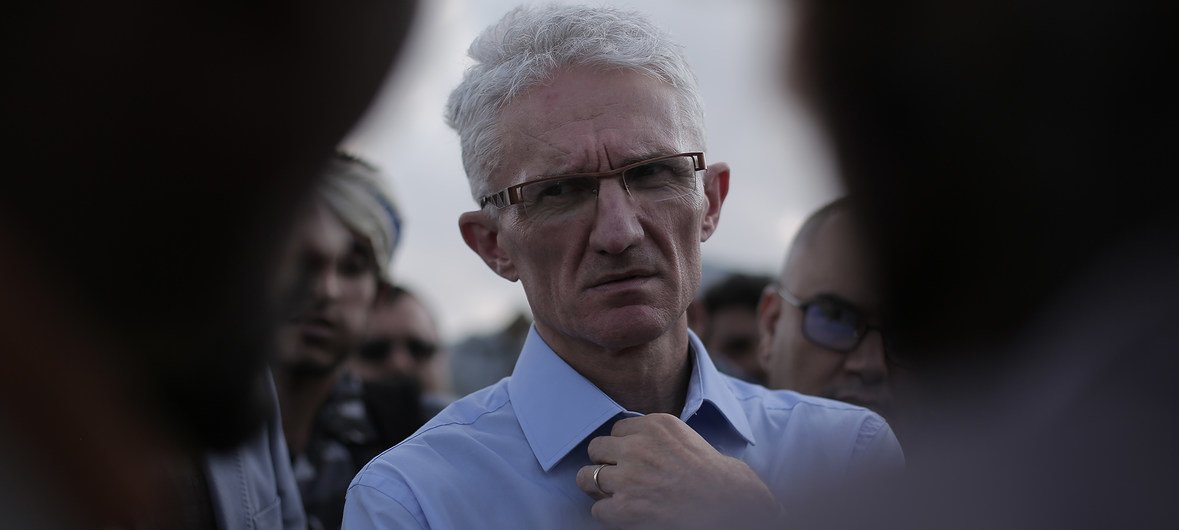 Conditions in Yemen have deteriorated alarmingly, and the country is on the "brink of a major catastrophe" said Mark Lowcock – Under-Secretary-General for Humanitarian Affairs and Emergency Relief Coordinator – on returning from his mission to Yemen on Saturday.
"But it is not too late," he added: "In my meetings with officials of the internationally recognized Government of Yemen in Aden and the de facto authorities in Sana'a, I was encouraged to hear strong support for relief operations."
Around 2.3 million people are currently displaced across Yemen, and, since June alone, more than 500,000 people have fled conflict in and around the strategically important port city of Hudaydah, the major port of entry for most of the county's food and humanitarian aid.
Mr. Lowcock, describing some of the scenes that faced him during his visit, said: "I met families outside Sana'a who fled their homes four years ago when conflict escalated and are still living in terrible conditions. In Lahj, I visited an overcrowded camp that hosts hundreds of desperate families displaced by recent fighting in Hudaydah."
The consequences of the Yemen conflict, especially the recent economic crash in the country, have driven major increases in severe hunger and malnutrition, leading to a humanitarian crisis that senior UN officials have called "the largest food security crisis in the world."
Mr. Lowcock said that he had witnessed the suffering of Yemeni civilians hit by the failed Yemeni economy, who can't afford food, clean water or transport to a clinic: "In Aden, I met emaciated children so malnourished they could barely open their eyes. Humanitarian assistance helps many of these children recover. But I also heard heartbreaking stories of children relapsing again and again because their families simply can't afford food or proper medical care."
Central American migrants must be protected
Migrants who have made, or who are making the journey to the United States border in caravans confront increasing threats to their lives, liberty and security, United Nations independent experts said on Wednesday, calling for their full protection.
Nine UN experts pointed out that the migrants are seriously vulnerable, facing challenges such as shortages of healthcare, water, sanitation, food, and shelter. They are also at increased risk of trafficking and sexual exploitation.
"Rather than fueling tensions with hate speech and threats, Governments should work together to tackle inequality, poverty, social exclusion, violence, insecurity, environmental degradation and persecution as the main drivers of migration in Central America," they underscored.
Since mid-October, between 12,000 and 14,000 migrants have passed through the Guatemalan and Mexican borders heading to the US. While most are from Honduras, increasing numbers are joining from Guatemala, Nicaragua and El Salvador – including a significant number of families; single mothers with children under age five; some 100 lesbian, gay, bisexual, transgender and intersex persons (LGBTI); and people with disabilities.
On Sunday, US government agents on the Mexican border used tear gas on a crowd of migrants who made a desperate attempt to cross over, in the city of Tijuana, during a protest march. Hundreds have been sheltering in the city since arriving, hoping to seek asylum.
"Rather than fueling tensions with hate speech and threats, Governments should work together to tackle inequality –  UN experts
Those caravans will not be the last ones unless the situation from which the migrants are fleeing, which for many includes extreme human rights violations, is considerably improved," the UN experts said, adding that cooperation between Central American States "is urgently required to develop more accessible, regular, safe and affordable migration channels."
In separate letters to the Governments of Guatemala, Honduras, Mexico and the United States, the UN experts voiced their concerns and called on them to abide by international law.
The UN experts also raised the alarm over racist and xenophobic language, and US practices in terms of border control, which they say, fly in the face of international human rights equality and non-discrimination standards.
In addition to violating international law, the experts accused the US of stigmatizing migrants and refugees, by accusing them of importing crime and disease, fueling a climate of intolerance, racial hatred and xenophobia.
"This has detrimental effects on the right to mental health not only of migrants, but of the general public," warned the experts. "It is of particular concern that such rhetoric is expressed by high-level authorities, leading to the escalation and normalization of hate speech, incitement to hatred and discrimination in the political and public sphere."
The experts also voiced concern over sending military personnel to secure the US border.
"Experience shows that when armed forces are used to perform tasks that they are not trained to do, this usually leads to serious violations of human rights," they stressed.
Jewish Prayer on the Temple Mount: Third World War or Civil Rights Movement?
A conference on Wednesday brought together religious Jews and Christians to discuss a topic that had never before been addressed in a multi-faith forum: the past and the future of the Temple Mount as it related to their respective religions.
As participants entered the conference, they were greeted by the sight of a 20-foot model of the Second Temple and much of the discussion focused on the subject of the Third Temple. Though the conference was a religious forum, avoiding politics, the political implications of any discussion about the future of the Temple Mount, a location frequently described in mainstream media as a "flashpoint," bears dire political consequences.
visit: https://www.breakingisraelnews.com/118166/jewish-prayer-temple-mount-third-world-war/