"…wars and rumours of wars… for all these things must come to pass. Nation against nation, kingdom against kingdom… famines and pestilences and earthquakes in unusual places…" Matt. 24:6-7
I

NSIDE THIS WEEK'S EDITION

: 
Trump could initiate building of Third Temple; Food crisis hits Zimbabwe; Cholera surges in Southern Africa; Is Jesus

 the only way to salvation?  When we think it is peace; Fight to end hunger faces challenges;   Nothing can stop the return of Jesus Christ; What is the Lord's Day?
WITH

JUST ONE CLICK

ON THE ADS TO YOUR RIGHT AND YOU SUPPORT THE WORK OF THE CHRISTIAN WATCHMAN
Week of  August 16 – August 28,  2019
Trump could Initiate Building of Third Temple as Head of Edom
Jewish sources hint that the alliance between the U.S and Israel is the prophetic end-of-days coming together of Esav and Jacob as a prelude to the building of the Third Temple. Some experts believe that President Trump fulfills many of the requirements for the leader of Edom that will make this happen.
Emissaries from Trump
Two weeks ago, two religious Jews appeared before Rabbi Cham Kanievsky, one of the most influential rabbis of this generation. The emissaries reportedly bore an inquiry from President Trump, asking when the Moshiach (Messiah) will arrive. The rabbi avoided answering the question, asking instead when the American Jews will come to live in Israel.
Many were skeptical of the story, rejecting the idea that Trump, a Christian, would inquire from a Jewish rabbi concerning the Messiah. But Trump, as the non-Jewish leader of the U.S., has a prophesied role to play in the building of the Temple and it was for this reason he inquired. Trump wanted to know when he will be called upon to perform this role.
For more on this story, visit: https://www.breakingisraelnews.com/134685/trump-initiate-building-third-temple-head-edom/
UN boosts humanitarian appeal to help tackle Zimbabwe's 'worst-ever' hunger crisis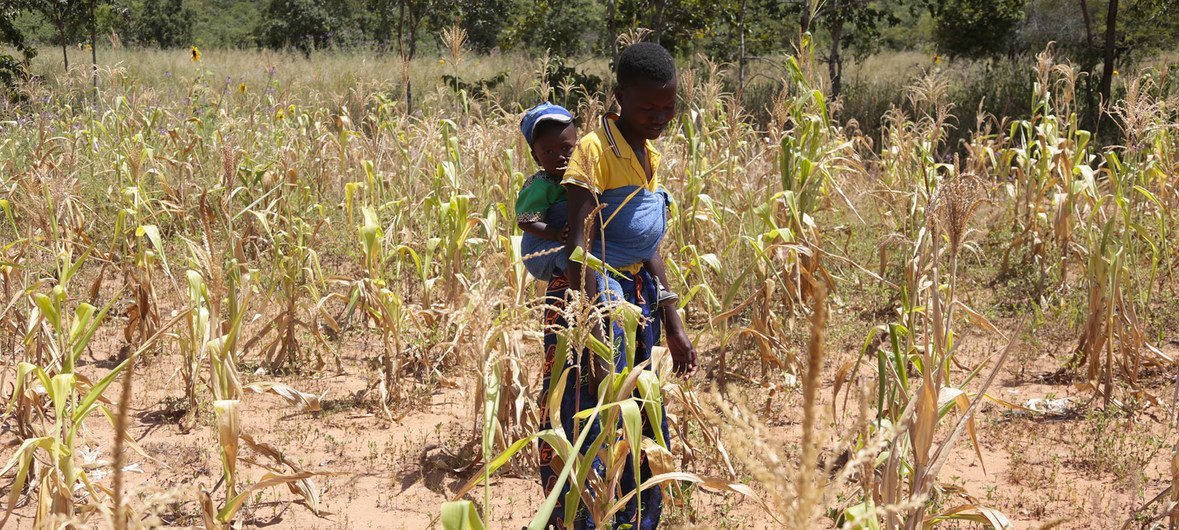 With Zimbabwe now experiencing its "worst-ever hunger crisis", the UN food relief agency has revised its humanitarian appeal to step up food assistance to people most affected by drought, flooding, and economic stagnation.
"Yesterday the humanitarian community launched an urgent appeal for funds to respond to the country's very difficult humanitarian situation", World Food Programme (WFP) Spokesperson Herve Verhoosel told reporters in Geneva on Wednesday. "WFP is set to increase aid, especially for drought-affected residents, but also to build community capacity to respond to climate shocks".
Zimbabwe was once known as leading food producer in the region, one of the bread baskets of Africa, but its problems were exacerbated earlier this year when Cyclone Idai struck, affecting around 570,000 Zimbabweans, together with large parts of Mozambique and Malawi.
The revised humanitarian appeal covers January 2019 through to April 2020, with a total requirement of $331.5 million need from this point onwards.
'Additional urgent assistance' required
More than one-third of the rural population, or some 3.6 million people, will be food insecure by October, and by January the figure is expected to increase to 5.5 million during the inter-harvest season, according to WFP. Moreover, most of Zimbabwe's 60 districts will exhaust their maize stocks by October.
"This accounts for 60 per cent of the rural population", explained Mr. Verhoosel, adding that the UN agency is providing food assistance to 700,000 people in August.
And "when crop stocks decline, we will scale up for the season between harvests and help 1.7 million people in October-December and two million in January-April, but only if funding allows it", he added.
WFP needs $173 million to implement its response plan in the next nine months consisting of a wide-ranging programme of humanitarian actions. The agency is asking the international community to quickly make the funds available.
Mr. Verhoosel flagged that following an emergency response, "we need to think about the long term and continue building local capacity".
Citing that "the recent abandonment of the US dollar and other currencies for commercial transactions" has negatively impacted the economy, he said that while  the actual rates could be "even higher", the official year-on-year inflation rate "reached 176 per cent in June, with food prices soaring by 252 per cent".
"Climate shocks such as cyclones or drought also have an immediate impact, especially on the rural population", underscored the WFP spokesperson, calling on the international community to "respond favorably to this request for funds to respond to this urgent situation".
Cholera surges, children in urgent need one month after Idai slammed southern Africa: UNICEF
One month after Cyclone Idai devastated parts of Mozambique, Malawi and Zimbabwe, the United Nations Children's Fund (UNICEF) appealed to the international community to  help some 1.6 million children still reeling from its impact.
"Children living in crowded shelters or away from their homes are at risk of diseases, exploitation and abuse," said Henrietta Fore, UNICEF Executive Director, who visited Mozambique's busy port city of Beira immediately after the cyclone hit.
Citing one million children in Mozambique, followed by more than 443,000 in Malawi and 130,000 in Zimbabwe, UNICEF said that the needs of children remain "massive", including for healthcare, nutrition, education and water assistance.
Since the cyclone hit Mozambique, cholera has surged in to 4,600 cases and malaria to 7,500 cases.
UNICEF said that any prolonged interruption to essential services could lead to disease outbreaks and spikes in malnutrition – where children are especially vulnerable.
"The road to recovery will be long", asserted Ms. Fore. "It is imperative that humanitarian partners are there every step of the way".
According to the UN Children's Fund, over 200,000 homes were destroyed in Mozambique alone and because the storm demolished crops just weeks before the harvest, food security is precarious.
Meanwhile, as thousands of people remain in evacuation camps, UNICEF expressed particular concern over the more than 130,000 displaced children, mostly in Mozambique and Malawi.
"We need to help children and families survive and then get back on their feet", stressed the UNICEF chief.
To support its humanitarian response for children and families affected by the storm and its aftermath in Mozambique, Zimbabwe and Malawi over the next nine months, UNICEF has launched an appeal for $122 million.
UNICEF response actions to date include:
Mozambique: Providing vaccines to immunize 900,000 people against cholera; distributing 500,000 mosquito nets to protect against malaria; and helping to restore Beira's water supply for 500,000 people.
Malawi:  Providing safe water to more than 53,000 people  and toilets to over 51,000 people; in evacuation centres, provided child friendly spaces, water trucks, toilets, medicines, recreation kits and volunteer teachers.
Zimbabwe: Providing over 60,000 people with information to prevent waterborne diseases; distributing hygiene  kits; rehabilitating water systems; restoring sanitation facilities; providing vital health and nutrition supplies; and, with partners, delivering psychosocial support to vulnerable children in child-friendly spaces.